To continue Yarok Balev NGO's activity you can donate money in various ways.

Monthly direct debit by credit card via PayPal secured website
One-time donations by credit card are also possible via PayPal secured website.
Bank transfer to Yarok Balev NGO's account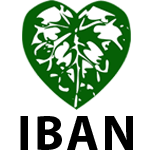 YAROK BALEV NGO
Bank Name: Mizrahi Tefahot Bank
Branch Name: Carmel
Branch Number: 449
Branch Address: Ha-nasi Blvd 137, Haifa, Israel
IBAN: IL22-0204-4900-0000-0244-795


Send a check, payable to Yarok Balev NGO, to our address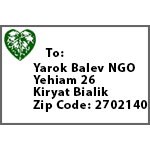 YAROK BALEV NGO
(at Blanc family)
Yehiam 26
Kiryat Bialik 2702140
ISRAEL


* Make sure to specify your full name and if you would like your donation to be registered as "anonymous" in The NGO Accounting Book.